about me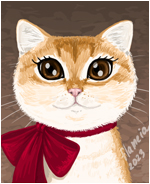 Hello! You're welcome!
My name is Julia Nikolaeva, known as Flameia.
I'm working as CG artist / lead artist / art director.
I've done various kind of things such as pixel art, illustrations, logos, pictures and animations for video games, interface design, web design, multimedia projects.
I also work with photostocks, where you can buy my illustrations.




I love animals, especially cats and foxes, and I love drawing them. Here my
shop
with my creations, where you can buy my works.
My links:
Alexander Shirokov 3D designer (portfolio)

services
In case you're in need of
Logo for your company
Website for your business
Interface for your application
Art for your game
Flameia Design
can provide you with all of these services.
If you're interested in working with me, please let me know.
flameiajulia@gmail.com